The Aspire Conference Bridge solution complements the standard basic business features and is affordable and feature rich, designed to streamline your conference call process with simplicity, quality and reliability which are essential in achieving a successful conference call.  If your in the Orlando area and would like additional information please contact Emergent at 407-834-2700.
Aspire offers a variety of IP solutions to the most common business needs. The Aspire Conference Bridge is another one of the Aspire IP solutions. Connecting to the customers Data network, the Conference Bridge allows the user the ability to schedule, host or participate in a conference call with ease and efficiency.
The Conference Bridge installs in the phone system and supports up to 16 participants in a single conference. Any combination of conferences can occur simultaneously on one card, up to the maximum number of allowed participants.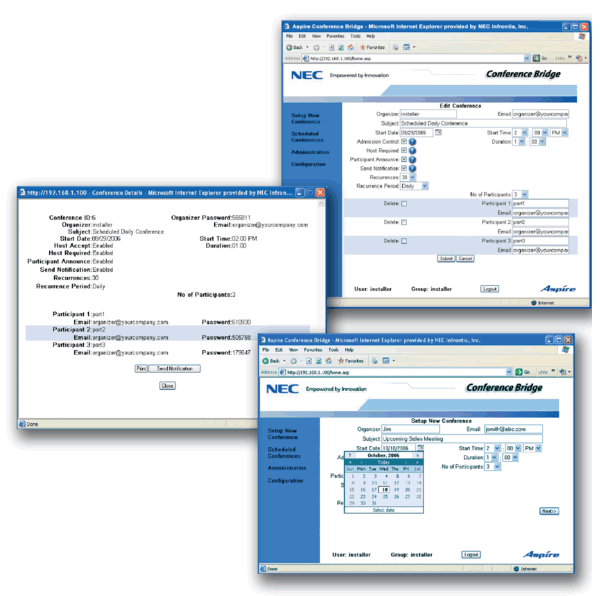 Using the intuitive Graphical User Interface (GUI), the conference host has the ability to schedule an immediate conference or pre-scheduled conferences up to one year in advance. These conferences can be defined as one time or reoccurring. Scheduling software prevents overbooking of the conference bridge resources. The host has the ability to enter email addresses and send notification detailing the schedule and conference instructions to all potential participants.
The Conference Bridge eliminates the need to manually establish a conference. Requested paticipants dial a pre-assigned phone number or extension number at the designated time. Each participant receives a unique password required to enter the conference. Upon entry to the Conference Bridge, the participant will hear a recorded greeting with conference instructions. The attendee may then be prompted to state their name. If so, the name will be announced upon entrance and/or exiting of the conference call.