NEC Aspire Desk Top Message allow you to listen to, delete and forward your voice mail messages through your email inbox.  Desk Top Messaging is ideal for storing important messages, training purposes and quality control.
In today's business climate, there is simply no place for long call holding periods, incorrect call routing or lost messages. While organizations seek additional features to address these needs, they also expect improved efficiency, economy and convenience. Aspire Mail is better able to meet these expectations because it is digitally linked in the Aspire platform. Digital integration brings increased speed and accuracy to your voice mail system. And since Aspire Mail mounts inside the Aspire cabinet, it is easy to install.
In addition to powerful Voice Mail and Automated attendant features, the new Aspire Mail DMS also offers the latest Desktop Messaging and Desktop Call Control technology. Aspire Mail DMS Desktop Messaging integrates your voice mailbox with your email inbox. Desktop Call Control is a WindowsTM application that intercepts Automated Attendant calls to your extension, provides a screen pop identifying the caller, and offers call handling options.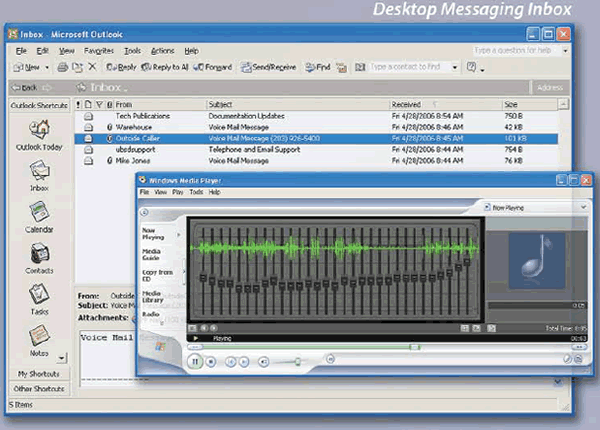 Consolidate multiple message sources with Aspire Mail DMS Desktop Messaging. Prioritize messages and respond to customers and coworkers more quickly with the power, speed and simplicity of Desktop Messaging. With Desktop Messaging, your email inbox gives you access to all of your email and voice mail. Aspire Mail DMS Desktop Messaging also lets you extend the distribution power in your email program to your voice messaging, making it possible to quickly send voice messages or documents to groups of co-workers. Aspire Mail DMS Desktop Messaging can integrate with various network and email platforms that are SMTP and IMAP4 compliant.